Welcome Family Care Provider, Misty Phillips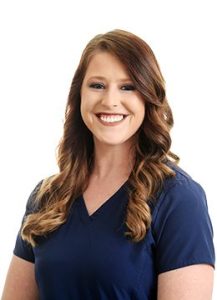 Nacogdoches Health Partners is proud to announce Misty Phillips, MSN, APRN FNP‑C has joined the team of family care providers.
Phillips grew up in East Texas and graduated from Huntington High School. She earned her Bachelor of Science in Nursing at Medical University of South Carolina and completed her Master of Science in Nursing – Family Nurse Practitioner at The University of Texas at Arlington. She is licensed by the Texas Board of Nursing and a member of American Association of Nurse Practitioners®.
Phillips' experience includes serving as unit nurse and staff development coordinator for Bayside Health & Rehabilitation in Virginia Beach, VA and once moving back to her hometown she worked for the local emergency departments CHI St. Luke Memorial Health Systems of East Texas and Woodland Heights Medical Center in Lufkin, TX.  Most recently, she worked as a nurse practitioner at Strive Urgent Care and Nacogdoches Medical Center with the hospitalist group.
Phillips is the daughter of Angie and Charles Lovett of Huntington. She and her husband Randal Phillips reside in Lufkin and attend Harmony Hill First Baptist Church. In her spare time, she enjoys spending time with her family, riding ATVs, reading and traveling.
Nacogdoches Health Partners is a primary care clinic with a focus on participatory medicine. Phillips and the rest of the Nacogdoches Health Partners team work together to provide primary care to patients of all ages.

Nacogdoches Health Partners is located at 4800 NE Stallings Dr #109 in Nacogdoches. Call 936-559-0700 or visit NacHealthPartners.com.